My last mini-build really got the wheels turning as far as what is available in the AR world as of late. I originally bought my Sig 556 because it has a folding stock and thus makes it a better CQB type rifle for a home defense role. However, having built a 10.5" AR pistol with a Sig SB15 brace on it, I was amazed at how handy that thing was, and it basically is the solution to the main negative of why I sold my AR originally, which was it's length and unwieldy-ness as a HD stick.
I'm not sure what's gonna happen with the 556 at this point. Truthfully I love it, but man it is heavy. That, and spare parts are 1.) hard to come by and 2.) expensive. So, for right now I'm planning on hanging onto it unless I can come out of it even or better, and going to build a new AR.
My plan is to first build a 16" Midlength SPR/DMR type rifle, and then later when that one's done I'll build a 10.5" 5.56 pistol with stabilizing brace. The first and only 5.56 AR I built and shot was more of a lower end budget build during the height of the panic. Upper was Del-Ton, lower was stag, parts were DPMS. The 300 blackout pistol was mid range lower half but top end Rainier upper, which really opened my eyes to the differences in quality. This time around I'm planning on going higher end, higher quality parts to make sure the rifle I put together is long lasting and super accurate.
So, I took the first step today and bought a Black Rain Fallout 15 billet lower receiver, and a CMMG gun builder's kit. The CMMG kit is basically an LPK minus all the items you'd end up customizing anyway, like the trigger group, pistol grip, trigger guard (the lower has one built in so no worries there), endplate etc. It comes with a selector, trigger pins and a bolt catch, which a lot of people will customize also, but I find mil spec parts in those locations are just fine for me.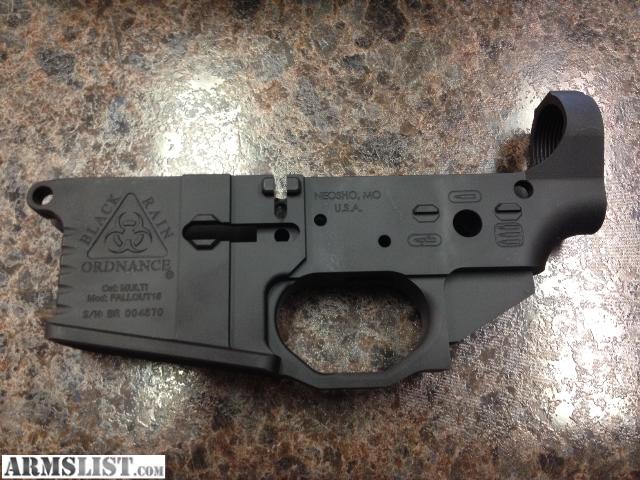 (not my actual lower, but you get the idea)
First impressions on this lower is wow am I impressed. I'm likely to go pick up a few more Anderson AM-15 lowers as I find them to be incredible value for the money, but you really can see on this Black Rain lower why it costs the same as 3-4 anderson lowers. Flared magwell, super beefy billet lower, built in tensioning screw to adjust upper-to-lower fit (yeah...seriously, it has that!).
So, the plan for the build looks like this, and I've been able to semi-visualize it thanks to the AR builder flash app on AR15.com.
Lower half:
-Black rain billet lower (Purchased)
-CMMG Small Parts (Purchased)
-ALG ACT Trigger (Purchased)
-Magpul MOE+ Pistol grip (purchased)
-Noveske 60 degree selector (purchased)
-BCM Milspec Buffer Tube kit (Purchased)
-Mission First Tactical BattleLink Minimalist stock (purchased) w/ NRAT 8ft paracord braid strap (purchased)
Upper half:
-Complete BCM 16" RECCE BHF Midlength upper with Midwest Industries SSK12 rail system and BCM Mod 0 compensator (purchased)
-BCM Bolt Carrier Group (purchased)
-Rainier Raptor charging handle (purchased)
-Vertical grip of some kind
-Inforce WMLx (Owned)
-Bipod of some kind.
-Diamondhead D-45 swing out 45° Iron Sight set (purchased)
Optic, at the moment will be a nice cheapo Sig CP1 3x ACOG clone. I've looked through only one ACOG in my life and don't have enough experience with a fixed power optic to be able to justify spending a grand on one, so I took advantage of a WOOT deal to get the CP1 for $100 to try out the fixed power thing. If I end up hating it, I should be able to make money on it and use the money toward a Vortex Magnifier to go behind the EOTech 512 I already have, or going with a 1-4 or 1-6 variable scope of some sort. Going with a magnified optic as such has me thinking of doing 45 degree irons, but we'll cross that bridge when we get to it.
All in all, I'm expecting this to end up being a very tough, very accurate, very reliable rifle. I'm planning on buying most of the parts new, but if I can find a deal on some used parts in good shape, I won't pass it up. I'll do my best to update this as I progress.